An Easy Hermit Cookie Recipe
The first printed hermit cookie recipe was in Miss Fanny Farmer's famous cookbook that was published in 1896. She made them as drop cookies even though they also come in bar form.
For optimum flavor, leave these homemade cookies alone for a few days so that all the spices have time to blend together. This makes them perfect for mailing.


Smart Cookies #010 has helpful tips on how to turn drop cookies into bars and vice versa.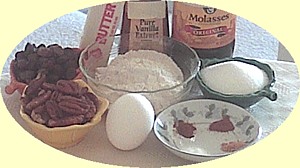 Soak raisins in warm water for about an hour. Drain and dry them thoroughly on paper towel.

Preheat oven to 350 degrees F. and line cookie sheets with parchment paper.
Cream softened butter on medium-high speed for about 30 second. Then add sugar, molasses, ground cinnamon, baking soda, ground ginger, and ground nutmeg. Combine them all.




Add egg and vanilla extract. Mix thoroughly.
Fold in some of the flour until just combined. Then fold in the remaining flour. Gently mix in chopped nuts and raisins.




Drop dough by rounded tablespoons onto prepared cookie sheets, spacing about 1 or 2 inches apart.

Bake for about 10 minutes or until edges are lightly browned. Transfer cookies to wire racks to cool completely before serving. This hermit cookie recipe makes about 30 full-of-flavored homemade treats.
Other Easy Recipes for Drop Cookies